Bridge Media Group wins Gold at the Environmental packaging Awards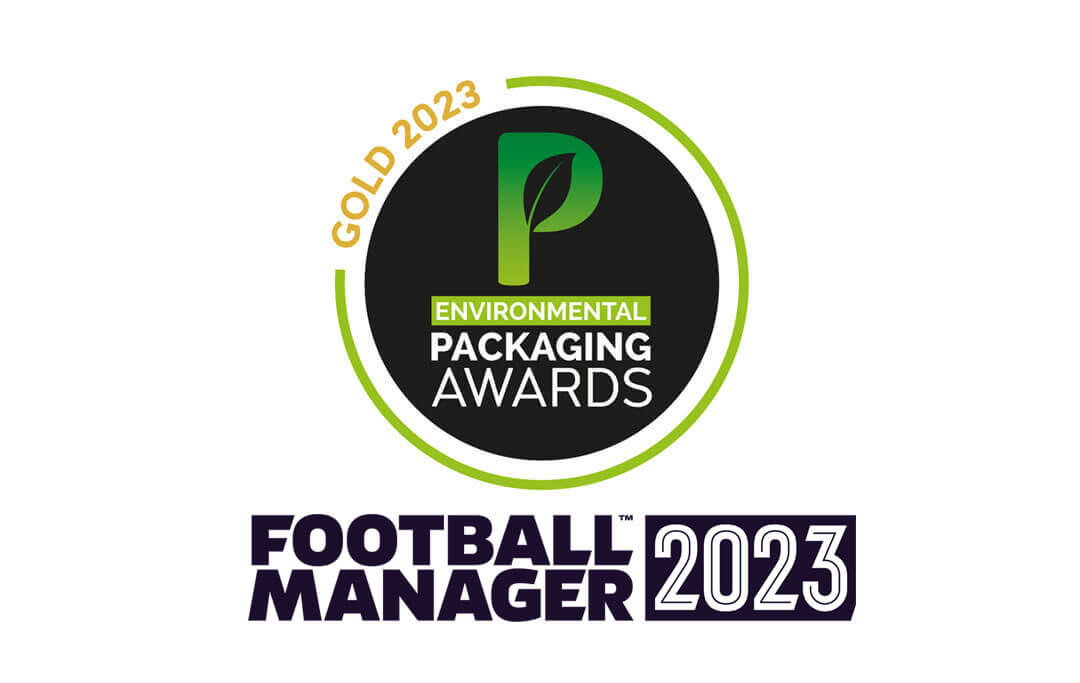 Client – Sega Europe Ltd
Project – Football manager 2023
Bridge Media Group are delighted to win this award, validating all our hard work ensuring that we produce the most sustainable packaging we can for our clients. Below are some details regarding the product itself.
The computer Games industry is well known for its plastic game cases. We were challenged with producing a pack that was robust and was as environmentally friendly as possible. This has been an ongoing development with SEGA for a few years, with the 2023 pack being completely plastic free.
The material used is a double thickness folding box board, made from 100% recycled fibres, The ink and varnish is water based. The pack can be put into standard recycling bins. The book that comes in the pack is also made from 100% recycled fibres, and printed in the same way as the outer pack. Even the glue is water based. Both the pack and book materials are FSC accredited.
The game publisher Sega, have removed the plastic disc and the pack now contains a download code only. They have calculated that this pack has reduced the carbon footprint for Football Manager 23 by 47% compared to the 2022 version, and removed around 20 tonnes of plastic use.
The pack is also lighter than its predecessors, which saves fuel used in transport and postage costs.
A Testimonial from our Client
Bridge Media Group has been a preferred supplier to Sega Europe for a long time, so when my team was challenged to develop eco-friendly packaging for our products, in particular the best-selling Football Manager product, we turned to them for advice and ideas.
The initial challenge was to remove as much plastic from the packaging as possible, particularly to replace the plastic disc case. What we were delighted to end up with was plastic free packaging, that was made entirely from recycled material, printed, varnished, and glued with eco alternatives, an eco-friendly shrink-wrap, and the pack is completely recyclable.
This has been a massive step forward in our company's drive to reduce our carbon footprint, reduce plastic usage, and to use recycled materials and planet friendly processes wherever possible.
Natalie Cooke
Operations Director
Sega Europe
Key Points
Made entirely from recycled fibres.
Uses eco-friendly inks, varnishes, and glues.
Materials are FSC certified.
Can be disposed of in normal recycling bins.
Removed a huge amount of plastic from the supply chain
Compared to the 2019 version of the game, the 2023 edition has a gCO2 equivalent of 66, compared to the 2019 version that had a gCO2 equivalent of 256. A reduction of around 75%.
References:
https://environmentalpackagingawards.co.uk/
https://sega.prezly.com/
https://www.footballmanager.com/news/